Our ROCK TAPE Functional Movement Techniques (FMT) Certified staff can provide Advanced Kinesiology Taping!
Our Physical Therapy staff can apply ROCK TAPE kinesiology tape for you, but also instruct and assist you so that you can apply the tape on your own. We also sell ROCK TAPE and ROCK SAUCE at our Clinic.
ROCK TAPE Functional Movement Techniques (FMT), sometimes referred to as Fascial Movement Taping, promotes better movement patterns so you can recover from injuries faster! It also improves athletic performance by reducing muscle fatigue and promoting proper form. Unlike conventional tape which constricts blood-flow, ROCK TAPE lifts the skin away from muscles, which increases blood-flow. ROCK TAPE also helps promote proper form by helping athletes coordinate their movements, which leads to efficiency.
ROCK TAPE can be used for RUNNING (planters, knee, and shin support), CYCLING (thigh and calf support), SWIMMING (shoulder issues), SOCCER (achilles tendon), GOLF (elbow and lower back), TENNIS (elbow, rotator cuff). ROCK TAPE is also great for BASKETBALL, VOLLEYBALL, BASEBALL, LACROSSE, FOOTBALL, and other sports!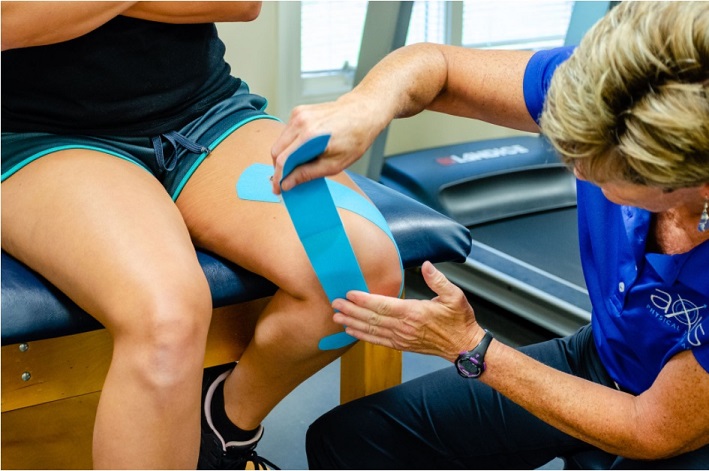 Unlike other products, ROCK TAPE can be used to both apply compression to promote recovery, or decompression to relieve pain and swelling. ROCK TAPE also promotes lymph drainage to remove toxins produces by the body during hard efforts. These combined effects are powerful: they allow the athlete to go harder for longer periods of time. And unlike compression garments, ROCK TAPE can be applied to very specific areas of the body that are sometimes hard to reach, such as shoulders, knees, and other joints.
Call us today or visit our locaton in Jacksonville, NC (26 Office Park Drive) if you are interested in receiving Advanced Kinesiology Taping with ROCK TAPE Functional Movement Techniques (FMT) as part of a physical therapy program or if you would like to purchase ROCK TAPE products! You can also Learn more at the ROCK TAPE website.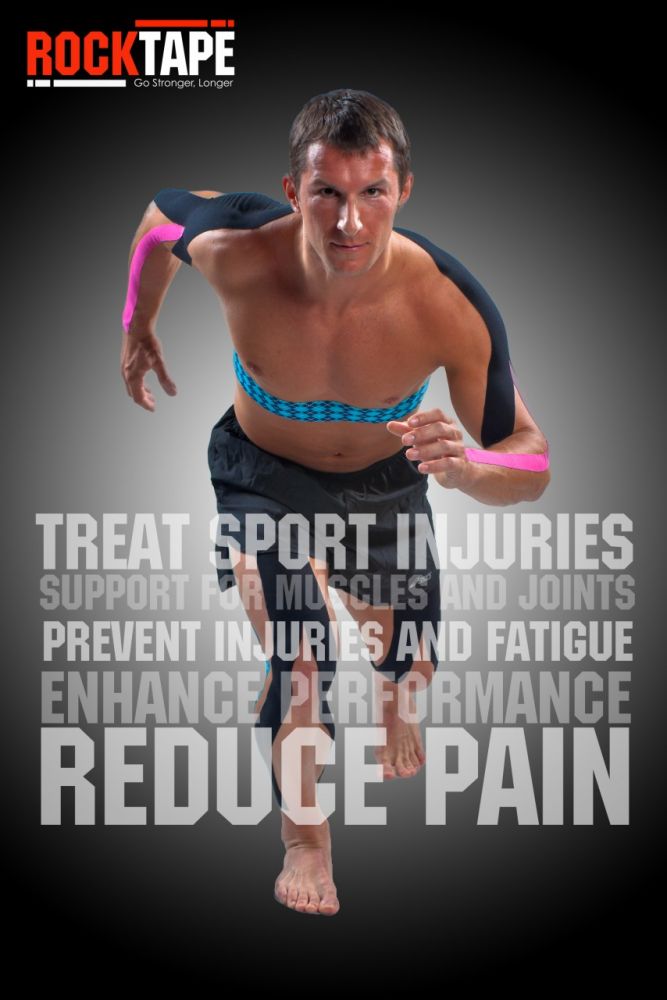 SaveSave