Daniel J. Henry, PT, DPT, Cert. DN, CSAC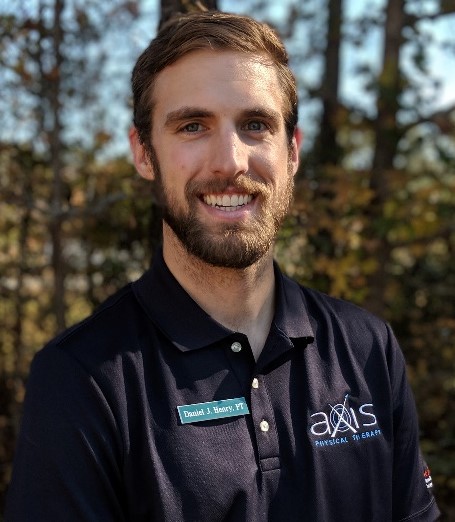 Dr. Daniel J. Henry, PT, DPT, joined the Axis team in November 2017. He earned his Bachelor's degree in Exercise Science from Slippery Rock University of Pennsylvania and his Doctor of Physical Therapy from Western Carolina University in 2015.
Dan's passion for physical therapy stems from growing up as an athlete including college track as an 800m and 1500m runner. He would continually see teammates develop injuries that he felt could be resolved or prevented. During high school and college, he was exposed to the benefits of physical therapy for family members. His parents, grandparents, nieces and nephews began to have their own challenges, needing therapy to return to full-speed or reduce pain.

While other opportunities presented themselves, physical therapy was his ultimate goal, bringing him to North Carolina. Specific interests include treatment of running injuries (IT Band syndrome, plantar fasciitis, Runner's knee, etc.), post-operative and non-operative shoulder pain, and foot and ankle injuries. In his free time, Dan enjoys running, hiking, and spending time with his wife (and dog, Murphy), friends, and family.

Dan uses a combination of manual therapy techniques and exercise to reduce pain and promote proper mechanics in order to return to daily activities specific to our patients. He is a Certified Dry Needling Practitioner, Instrument Assisted Soft Tissue Mobilization (IASTM) certified through RockTape FMT Blades, is a Certified Speed and Agility Coach (CSAC), and has completed several courses in running injury rehabilitation.